First year of a child is the most important and a critical year in a child's development.  At SKLC, we develop a relationship with your infant, helping your baby to feel secure and safe. Our infant curriculum focuses on fostering basic trust in the child.  We provide home like loving and nurturing environment for your little ones. Our staff is focused on creating experiences and opportunities that invites exploration and support the rapid and important development that is important in first year of your child. Your baby will be taken care of in your "second home??? by our CPR/ First Aid Certified caregiver.
We care for your baby just as you care for them at home. We feed them when they are hungry, we put them to sleep when they get tired, we hug them and cuddle them when they cry, we try our best to provide most warm, loving and caring atmosphere for your baby, we love them as much as you love them as a parent in our care.
While recognizing that this is the most important time in your child's development, we have very carefully chosen age appropriate activities to enhance their physical, social and emotional development.  keeping that in mind that babies listen, watch, touch and smell their surroundings, we provide many activities and opportunities for your baby to grow, explore and enjoy this new world in a warm, secure, loving environment. We help infants acquire skills in communication, movement and thinking.
Our main focus is to keep your baby happy, engaged and secure. We offer personalize care to each infant based on his or her unique schedule, nutritional guideline, or any other special attention he or she requires. We build a relationship with you and your family, prioritizing open communication so that we are working in partnership to promote the growth and development of your child.
We stay in touch with the parents by using "Baby Connect mobile App??? to stay in touch with parents throughout the day, we share activities and pictures of our child in our care, enjoying time with us.
Our low teacher/infant ratio ensures your child receives quality nurturing care.
Our classrooms are well equipped with age appropriate infants play and learn toys, music, and various other educational resources.
ACTIVITIES IN THE CLASSROOM INCLUDE: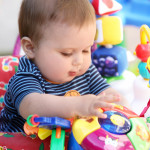 Your baby will enjoy playing with age appropriate toys, like musical instruments, playing with single wooden puzzles, singing, playing peek- a  boo, exploring toys and other objects using hands, listening to music, practicing rolling over and tummy time and providing many other sensory activities for your little ones.
Our teachers talk and sing during diapering, playtime and feeding time, that helps to develop language skills, vocabulary, listening skills in your baby, and your baby feels more secure and comfortable in our environment, plus providing positive attitude and loving approach to learning develops confidence and independence in later years.
Research has shown that introducing music at early age helps with brain development and cognitive skills. We offer music and movement program for your little ones, and your baby cultivate love for music through our Music Program.
Your infant develops his or her social skills by engaging with our staff and while playing with other children. We provide many opportunities for your little ones to socialize with other children during Arts, playing with toys, story time, music time, pretend and play and during indoor and outdoor play time.
We provide variety of age appropriate activities to help build their fine and gross motor skills through the use of age appropriate toys.  Once your little ones master their basic gross motor skills, they are on their way to crawl and walk. Later on we provide many activities that help in developing their communication, language, emotional, social, fine and gross motor skills.
OUR DAILY ROUTINE establishes a relationship with your baby and teacher, which help your child your child to feel safe and secure and get ready to enjoy learn and play in our nurturing environment. Our daily routine includes:
Singing Hello
Diapering or Restroom Time
Snack time
Story time with big picture books or puppets
Playing with a wide variety of Infant toys
Music and Movement
Mealtime and Eating
Nap time
Outside play time, weather permitting
Getting Dressed
Snack time
Time to say Good bye
BABY CONNECT:
We are excited to use Baby Connect at our center. Baby connect is a website and mobile application that allows parents and staff to log and share information about a child's day in a digital form. Our teachers use tablets to record daily activities and take photos . Parents can connect in real time through the app, website or via email.