SAFARI SUMMER CAMP 2021
This summer join us on a safari adventure at our Indoor Safari Kids Learning Center.  Join and experience the wonder and amazement of our large indoor and outdoor facility. We are offering multiple week-long Safari Summer Camps.
This unique indoor safari summer camp will be a fun filled educational experience for children ages 4 to 13 years. Campers will participate in hands-on activities, learning about nature, animals and their environment. They will participate in science projects where they will make solar cars, robots, etc. This will be complemented with crafts, games, stories, projects, music and songs.
We are also introducing children with some of the basic Montessori educational program where younger children will learn to read, spell and write using Zoo-phonics. Zoo phonics integrates all aspects of language arts (phonological awareness, the alphabet, print information and oral language) with math, art, music, science, social studies, nutrition, sensory motor, physical education, grooming and self-care.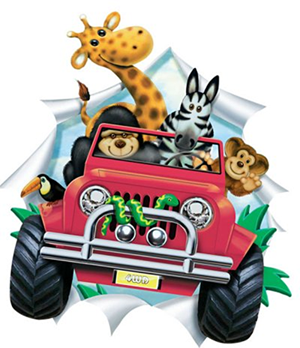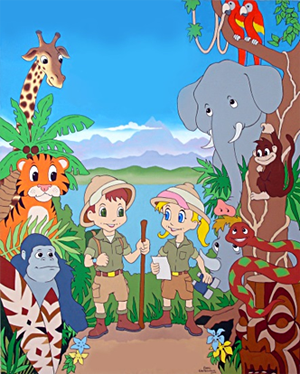 WEEKLY THEMES
Week 1: June 1 to 4
CODING AND ROBOTICS (STEM)
This week is designated to teach children the fundamentals of coding through fun robotic games. We will help children understand the basics of algorithms, sequencing and how simple programs can be created and then executed. This will help children develop problem-solving skills, directional learning, simple programming and so much more. It will help foster learning at the age where their young minds are developing at the fastest.
Week 2: June 7 to 11
CULINARY ADVENTURE (EXPLORING FOOD FROM AROUND THE WORLD)
Put on your chef's hat and get ready to experience the world from your taste buds. We will measure, mix, blend, beat, or whip up a variety of edible concoctions and learn about food from around the world. This unique culinary adventure will provide a great opportunity for our children in promoting healthy eating habits and creativity while building and reinforcing basic life skills. This program also allows our children to explore and learn about all five senses (sight, hearing, touch, smell and taste). These culinary activities will reinforce the basic knowledge gained in relation to math and language. Besides cooking and tasting food this program will help improve a child's attention span and memory.
Week 3: June 14 to 18
EXPLORING MUSIC AND DANCE FROM AROUND THE WORLD
During this week children will be exploring their artistic talents. Our young budding stars will travel around the world singing, dancing, drumming, ringing and creating art from many different cultures. A week long activities will be centered on this theme.
Week 4: June 21 to 25
EXPLORING ARTS AND CRAFTS FROM AROUND THE WORLD
Spark up your creativity and produce your own masterpiece to cherish and enjoy for the lifetime. We will guide you and provide all the materials. Let your creative juices flow to create your masterpiece. We will learn about various arts and crafts from around the world.
Week 5: June 28 to July 2
BUDDING ENGINEER'S CAMP
This camp is designed to get your engineering brain cells growing. Children will explore and learn about basic architectural concepts using Lego and other simple building materials. Children will be encouraged to build structures, large or small, and above all from their own imagination.  Thinking outside the box, children will design, build and compete in races with their own cars and sailboats. Working cooperatively, they will develop problem solving skills and understand teamwork.
Week 6: July 6 to 9
CELEBRATING AMERICA
This week we will be devoting ourselves in learning about our great country – America. We will learn about our history, geography and our culture. We will explore the rich culture of all the 50 states and learn what is significant about each of them. We would make crafts – red, white and blue style. We would learn about popular foods of each state and even try to make some in our brand-new kitchen designed for such activities. It is going to be a perfect way to kick off America's birthday the week of July 4th.
Week 7: July 12 to 16
TRANSPORTATION (CARS, TRAINS, PLANES, SHIPS & ROCKETS)
This week is devoted in learning about transportation. Various age appropriate activities and projects are specifically designed to make it interesting and fun.
Week 8: July 19 to 23
SCIENCE CAMP
We will introduce our children to the fun of science through simple hands on experiments. They will experience how science works in the real world. Children will learn about electricity, circuits and even build their own working radio. They will be introduced to physics, chemistry, biology, robotics and engineering through simple experiments. We will also be exploring renewable energy – solar and wind power.
Week 9: July 26 to 30
WATER FUN ACTIVITIES (LEARNING ABOUT BEACHES, OCEANS, LAKES AND RIVERS)
This week we will learn anything and everything about water – the reason life exists on our planet.  We will learn about various forms of water (liquid, solid and gas), ice and snow, steam and clouds, lakes, rivers and oceans.  We have planned a lot of fun activities related with water all throughout this week.
Week 10: August 2  to 6
DINOSAURS (EXPLORING OUR PAST)
This week we will follow the footsteps of archaeologists and paleontologists to learn about dinosaurs – the giants which roomed the earth millions of years ago. We will excavate dinosaur bones, assemble these bones and learn about these animals. Various other fun activities are planed related with this topic.
Week 11: August 9 to 13
WEATHER (LEARNING ABOUT TORNADO'S, HURRICANES & BLIZZARDS)
We will create our own spinning, twirling, whirling tornado and learn about the awesome force of nature. We will discuss ways to keep themselves safe during these weather conditions. We will make snowman with artificial snow and learn survival techniques during snowstorms and blizzards.
Week 12: August 16 to 20
NATURE DISCOVERY
This week is dedicated to learning about nature (Plants, Animals, and their Environment). Children will be involved in hands-on activities, learning about butterflies and their amazing transformation during metamorphosis. They will explore the fascinating world of ants and ladybugs. They will get a chance to watch tadpoles metamorphose into little frogs. Learn about gardening and even try to grow herbs and vegetables. Make crafts, bird houses and more.
SAFARI SUMMER CAMP 2021
Our safari summer camp consists of 12 weeks of fun. We have planned different themes and activities for all the weeks.
TUITION
5 DAY:  $200 per week
3 DAYS:  $ 170 per week
Daily Rate:  $ 65 per day
HOURS OF OPERATION: Monday to Friday 6:30 am to 6:00 pm.
A onetime $100.00 registration fees are required for the Safari Summer Camp 2021.
Sibling Discount: $10 off the oldest child's fee. There will be additional charges for field trips.
The fee includes nutritious breakfast, lunch, snacks (morning and afternoon) and dinner.
HURRY SPACES ARE LIMITED!
You can download the admission related forms by clicking on the link below: